Submitted by

john-carter

on Tue, 02/12/2014 - 19:37
For the first time, the ever-popular Boxing Day Pilgrimage from Ripon Cathedral to Fountains Abbey will be led by the Bishop of Knaresborough who will be joined by the new Dean of Ripon, (pictured left) the Very Revd John Dobson on his first Boxing Day pilgrimage.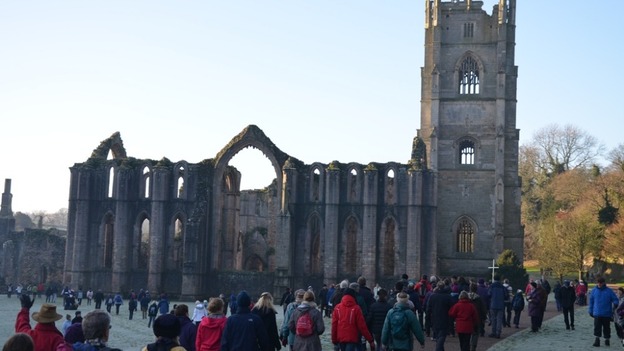 Bishop James Bell, now the Area Bishop for the Ripon 'Episcopal Area' in the new diocese of West Yorkshire & the Dales,  was handed the baton last Christmas by the retiring Bishop of Ripon and Leeds, John Packer who had led 14 previous pilgrimages.
The four mile walk, which last year attracted hundreds of pilgrims, sets out at approximately 10.15am on December 26th following a short service of Holy Communion in the Cathedral and will follow the River Skell out of the city, through the Studley Royal Deer Park and on to the National Trust site at Fountains Abbey.
The route, which crosses fields, passes grazing deer and goes through woods and landscaped water gardens, follows in the footsteps of a group of 12th century Cistercian monks who set off from Ripon Cathedral on December 26th, 1132, to found Fountains Abbey – entrance is free for those taking part in the Pilgrimage.
Bishop James says, "From remembering Stephen, the first witness to give his life for faith in Christ, through to remembering the faith of those who founded Fountains, this is a great journey to make, and I'm excited to be joining the pilgrimage in the company of all who want to enjoy this wonderful walk!"
As the pilgrimage reaches the Studley Royal estate and Deer Park and the Studley Lakeside entrance of Fountains Abbey, less mobile pilgrims are expected once again to swell the numbers, and walkers can be refreshed with mulled wine.
This year, churchgoers and non-churchgoers alike, from throughout the region and beyond, are expected to join the pilgrimage. The two hour walk concludes with a short service of carols and prayers in the Fountains Abbey ruins.