Here is our page for Lent and Easter 2023. Find helpful resources and ideas for your church or parish.
Dust and Glory: A Lent journey of faith, failure and forgiveness by the Church of England
This Lent we are all invited to explore how we can live well with the mess of everyday life.
Dust and Glory encourages us to take a fresh look at the frustrations and failings that every day brings and, rather than pretending we can always avoid them, seek to learn from them and grow closer to God through them.
Click here to discover all of the Lent and Easter resources from the Church of England.
Rhythm of Life Lent Course by the Diocese of Leeds
What it means to be a disciple in today's world is the focus of our newly published Rhythm of Life 2023 Lent course.
Consisting of five sessions, the course includes a mixture of online materials and videos, which are designed to be used by parishes.
Lenten themes, combined with some key issues, including Poverty, Racism and the Environment will be explored by those participating in the course. It will also provide an opportunity to engage with the Rhythm of Life areas for deepening commitment: praying, encouraging, sharing, reflecting, celebrating, resting and creating.
The Revd Andrew Norman, Director of Ministry and Mission for the diocese, said: "'Our Lent Course is a great opportunity for taking a fresh look at our rhythms of life.
"But it's not just about us. Our eyes will be drawn to some of the most challenging issues facing society today, as we journey with Jesus – and one another – through Lent."
For those wanting to take their engagement with the Rhythm of Life even further, there will also be Episcopal Area retreats taking place during Lent. More information about these retreats can be found below.
Lent Retreat with the Bishop of Bradford | Saturday, March 11 at 10am | Bradford Cathedral
Lent Retreat with the Bishop of Wakefield | Saturday, March 11 at 10am | College of the Resurrection, Mirfield
Lent Retreat with the Dean of Ripon | Saturday, March 11 at 10am | Ripon Cathedral
Lent Retreat with the Bishop of Kirkstall | Saturday, March 25 | St Paul's, Ireland Wood
Click here to find out more and to access the course materials.
Lent Meditation hosted by the Diocese of Leeds
Tuesday 28th March, 7.30pm - 8.30pm
You are invited to find some peace and stillness. With the help of Scripture and other sources of inspiration, we journey deeper into Lent. This online session offers an opportunity to reflect, pray and discover the practice of christian meditation.
More information and booking details can be found here.
Church Army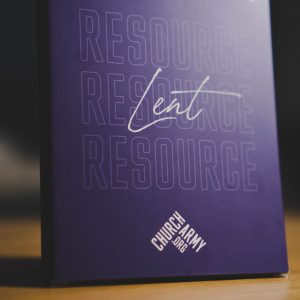 The Church Army Lent Resource has been designed to give you, your small group or your church space and time each day throughout Lent to listen to God, reflect on the Bible, and see how and where you can listen to His leading in your actions and attitudes.
Each pack contains 40 beautiful cards divided into Action Cards, Character Cards, and Reflection Cards and Marks of Mission Cards.
Find out more at the Church Army website.
Church Urban Fund
Join the Church Urban Fund this Lent for a short time of reflection and to renew your commitment to ?respond to the need around you, as Jesus did.

Using their resources, you can take part as a church community, home group, family or individual.
The Church Urban Fund have provided a scripture reading, reflection, questions for reflection and discussion and intercessions. These can be adapted to suit your context.
Find out more at the Chruch Urban Fund website.
The Clewer Initiative
Journeys
A new resource designed to equip and inspire people in the fight against modern slavery.
Journeys consists of five mini films and two accompanying resources – one for Lent and one that is suitable for anyone, at any time of year.
The films include interviews with church members, experts and community leaders who have done significant anti-slavery work. They highlight the journeys they have been on to deliver their work. The Clewer Initiative hope these case studies will inspire and equip others to take similar steps forward.
Faith-based Lent resource (in Blue)
This resource is based on the "Stations of the Cross". It takes churches and individuals on a journey throughout Lent, challenging them to move from the side-lines to action. It can be used in in-person small groups, individual study or online.
The five-week course studies some of the themes from the "Stations of the Cross" and includes a reflection, prayer, discussion questions, and suggestions for action.
Read more and access these two resources here on the Clewer Initiative website.