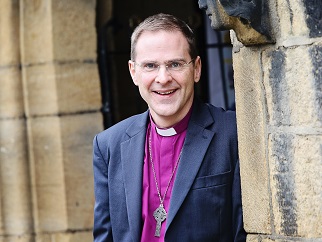 Toby Howarth was born in Kenya and went to school at Haverstock Comprehensive School in North London. He received scholarships to study at high school and Yale University in the United States, including a summer teaching Afghan refugees in northern Pakistan. On coming back to Britain, he worked as a research assistant for the Reverend Dr John Stott for two years before becoming a postman in the East End of London.

After ordination training for the Church of England in Oxford, Birmingham and Uganda, combining Christian theology with an MA in Islamic Studies at the University of Birmingham, he served in an inner city parish in Derby. Subsequent to this he moved to India with his family where they lived for five years, during which he researched Islamic preaching for a PhD from the Free University of Amsterdam.

Returning to Europe, he worked in inter-faith relations in Rotterdam before moving back to Birmingham where he taught Islamic studies and served as a Tutor and then Vice Principal at Crowther Hall in Selly Oak.

In 2004 he took up parish work again as Vicar of St Christopher's, Springfield, a church in a majority Muslim area of the city. In addition to the parish role, Toby was the Bishop of Birmingham's Adviser on Inter Faith Relations until April 2011 when he became Interreligious Affairs Secretary for the Archbishop of Canterbury.

Toby is married to Henriette, who is also ordained and they have three children. They like travelling together, particularly linking up with friends across Britain, Europe and further away. On a day off or holiday Toby enjoys visiting a museum or gallery, reading a novel, playing music, camping or going for a bird-watching walk or cycle ride.

Toby was consecrated as Bishop of Bradford in York Minster on 17 October 2014.
PA to Bishop of Bradford - Ms Carmel Dylak 0113 353 0290.
Bradford Area Office: The Trinity Centre, John Escritt Road, Bingley BD16 2ST.