Welcome to our blog page. These posts are for you and for your parish magazine.
You are welcome to use any of the articles to print or to copy into parish e-newsletters. Please scroll down for previous editions.
Sun and Rain: Friends or Foes?
By Diana Chambers
My Mum used to line us up with our backs to the summer sun, eyes closed. She told us to turn very slowly until we could feel the full warmth on our faces. 'That is what the love of God feels like,' she said.
We sing at Harvest, 'The breezes and the sunshine and soft refreshing rain..' but, our climate is no longer so benign. This year we have had the hottest July recorded on Earth. You have seen the droughts and fires. You have also seen the intense rainfall resulting in landslide and flood, wreaking mayhem upon millions of people's lives who are displaced, impoverished, starved or left battling disease. Many are dying as a direct result of this.
Closer to home, there is now a twenty-foot drop outside the back door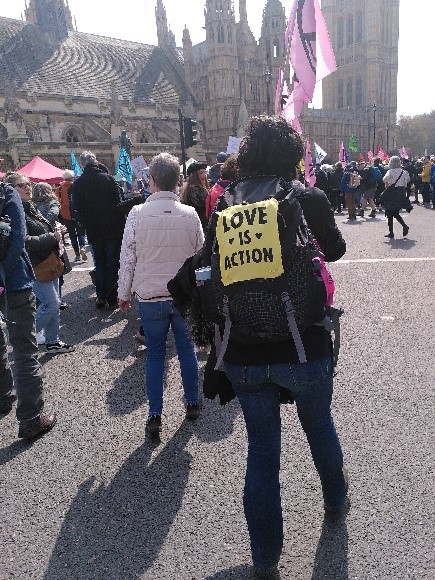 of a house in Riddlesden, into the River Aire, where rain from storm Arwen could not find another route in Feb 2022. The fires on Marsden Moor June 2023 are local testimony of how the precious commodity of a stable climate is under threat.
As we pollute our planet, so the blanket around the Earth gets thicker, stopping heat from escaping and changing established weather systems. Every type of weather is now more extreme. Whilst El Nino (a naturally occurring climate warming phenomenon) has been around for centuries, now, when it returns, combining with the warmer sea temperatures results in much hotter weather. La Nina (a cooling phase) has not had her usual cooling effect. The Gulf Stream may be weakening.
So much of our society is structured around using fossil fuel, we are effectively addicted to polluting through every emission from our homes, cars and travel and from our food (methane from cows and nitrous oxide from fertiliser). This addiction is responsible for the climate emergency.
In Richard Rohr's book, 'Breathing Underwater', he uses the AA's Twelve Steps to help Christians tackle addiction in their lives. Step five reads 'Admitted to God, to ourselves and to other human beings the exact nature of our wrongs.' Rohr says 'The revelation from the Cross and the twelve steps is that sin and failure are the setting and opportunity for the transformation and enlightenment of the offender.' Then in step 8 he suggests we must '… become willing to make amends.' In Mathew 25 Jesus says that whatever we did or 'did not do for one of the least of these, you did not do it to me.'
So what can I do? Here are a three ideas to get started.
Firstly, use your political influence. There are some simple policy changes that could make a big difference. Do you remember Nero 'fiddling while Rome burns'? While there is still no compulsive regulation on installing solar panels on every suitably placed new house, Grant Shapps (until recently Secretary of State for Energy Security and Net Zero), has announced investment of £4.3 million to develop the beaming back of solar power from satellites!
Secondly, don't buy that air conditioning unit yet! Reduce heat impacts by insulating your home. If you can shade the western and southern aspects of your house with planting. Using external structures such as awnings, shutters, pergolas and porches all reduce the air temperature before the heat hits the drawn curtains and blinds.
Thirdly, consume less water (www.watercalculator.org) and conserve rain all year round. This not only helps in drought, but you can 'slow the flow' during heavy rain when river levels are high (find out more here). If you have a garden you could run a hose from a water butt into the gardens during heavy rain, not into the drains. What about having an extra butt attached to the downpipe from your shower? Don't forget the old saying 'if it's yellow let it mellow; if it's brown wash it down', so using less water becomes a year round habit!
Jesus said 'I have come that they may have life in its fullness.' John 10. There is real hope for us all to enjoy this fullness! Halving our carbon emissions in the next six years will halt the temperature rising further if we take collaborative action now! It's up to us.
Sun and Rain: Friends or Foes? - Diana Chambers - September 2023
Is it for Our Grandchildren? - Jemima Parker - July 2023
What's Love Got to Do With It? - Jemima Parker - May 2023
How Green is God's Mission? - Jan Goodair - March 2023
The Diary of a Prodigal Parishioner: Let's Have a Green Christmas Part 2 - Sue Young - December 2022
The Diary of a Prodigal Parishioner: Let's Have a Green Christmas Part 1 - Sue Young - December 2022
Living in Denial - Roslyn Swaney - November 2022
Listen to the Voice of Creation - Christine Jack - September 2022
Saving the Planet and Saving Money? - Jan Goodair - September 2022
The Diary of a Prodigal Parishioner 5 - The Big Clothes Disposal - Sue Young - July 2022
The Diary of a Prodigal Parishioner 4 - The Dreaded Wardrobe Audit - Sue Young - May 2022
The Diary of a Prodigal Parishioner 3 - "Who would know Grandma?" - Sue Young - May 2022
The Diary of a Prodigal Parishioner 2 - Decluttering - Sue Young - March 2022
The Diary of a Prodigal Parishioner 1 - A Journey Towards Environmental Concern - Sue Young - March 2022
Green and Platinum Jubilee Celebrations? - Christine Jack - May 2022
What do we do with the Leftovers? - Jan Goodair - March 2022
Don't Look Up: Or Perhaps We Should - Jan Goodair - January 2022
Planning for a Greener Christmas - Jan Goodair - November 2021
Code Red for Humanity - Jan Goodair - September 2021
Good COP, bad COP - What is COP26 and why is it so important? - Jemima Parker - September 2021
Summer Sabbath Rest - Jan Goodair - July 2021
Quick Action Stations! There's a COP Coming! - Jan Goodair - July 2021
Trees of Life - Jan Goodair - May 2021
Books, Ecology and New Life - Christine Jack - May 2021
My Lent Challenge - Jemima Parker - March 2021
Zero Carbon Church: You Must Be Joking! - Jemima Parker - January 2021
Hoping for a Green Recovery - Ian Fletcher - November 2020
Food Glorious Food - Jemima Parker - September 2020
If Only We Had Known - Jemima Parker - July 2020
Where to Worship - Jemima Parker - April 2020
Let Your Love Shine for 2020 - Jemima Parker - January 2020
The 3 Rs - David Eggleston - June 2019
The C Word: Carbon - Andy Ive - May 2019
The Forgotten Climate Change Buster - David Eggleston - January 2019