"The liturgical year provides a structure for the Church's collective memory, a way of consecrating our human experience of time in the celebration of God's work - in Christ and in human beings made holy through Christ.
This act of Christian remembering has proved, over time, to have an extraordinary depth. Through the structuring of our Christian memory, the past is able to come into our present."
From Common Worship: Times and Seasons
The liturgical year includes the following seasons: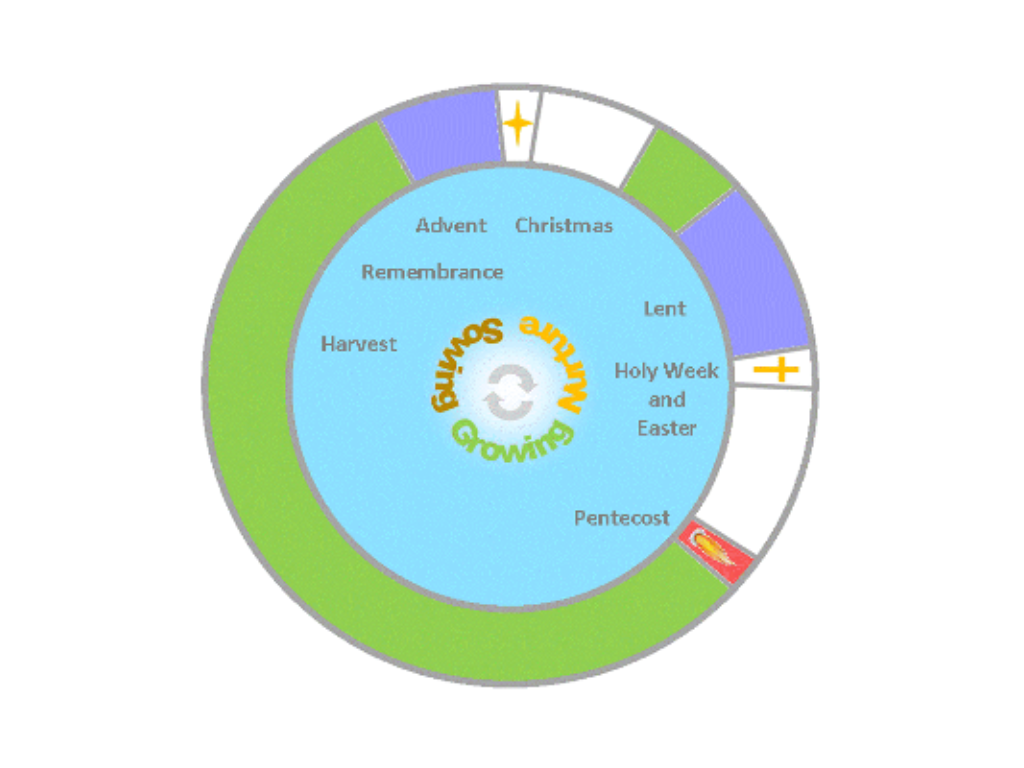 Advent
Christmas
Epiphany
Ordinary Time - following the Presentation of Christ in the Temple)
Lent
Easter - which includes the Easter Vigil and the Easter Liturgy
Ordinary Time - following Pentecost
There are many opportunities to support children, young people and families throughout the year.
Advent and Christmas
Christmas Tableau A script for creating a Christmas Tableau in the style of Godly Play - ideal for a Christmas service or party
The Twelve Days of Christmas Words, background explanation and actions - ideal for a Christmas party or service
Travelling Crib An idea for marking the days of advent and connecting a community
A Christmas Prayer Space An outline of a session run by Anna Davis and Sharon Ross Ensor at Queen Margaret College in November 2014
Christmas Come as You Are A resource to use with 11-16 years olds
Christmas Sharing the Good News A resource to use with 11-16 year olds
Nativity Game Rules Build the Nativity Scene as you play! Pictures: Nativity; Nativity A; Nativity B
Christmas Starts Here A pack to welcome families in the local community during advent
Lent, Holy Week and Easter
Faces of Easter Labyrinth Based on the Godly Play story for all ages
Lectio Divina A guide to a style of bible study
Pentecost
Pentecost Ideas Creative ideas to explore the Holy Spirit and the Holy Trinity
Harvest
Apple Prayers
Harvest Treasure Hunt - A-Z
Harvest Treasure Hunt - Colours
Harvest Service Planning Grid