Godly Play is a way of exploring Bible stories in a creative, measured and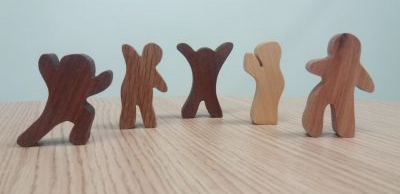 imaginative way. If you are interested in Godly Play and would like more information about how to use the resources, please contact childrenyouth@leeds.anglican.org, as we would always recommend some training before starting out. In addition, Godly Play UK provide regular training and details can be found here.
Godly Play Resource Hubs
The diocesan Children, Young People and Families Team are delighted to be working with five parishes across the diocese who are helping to make resources more accessible to Godly Play practitioners across the diocese.
The churches involved are:
For parishes who would like to borrow Godly Play resources, the procedure is as follows:
Locate the story you would like to use; the list is here.
Email the location with your request; please only use the email addresses quoted above as that links to Godly Play. The parish will usually respond within a week, so do please factor this into your planning.
They will respond telling you whether the story is available and if it is; options for collection. In normal circumstances stories will be available for a maximum of 1 month, however if they are of a seasonal nature, such as Advent and Easter, then shorter timescales will be in place.
Please return the resources at the agreed time and date; if anything is returned incomplete or damaged, the Children, Young People and Families team will contact the borrowers regarding replacement costs.
Terms and Conditions of Borrowing Godly Play Resources
Parishes applying to borrow diocesan Godly Play resources agree to:
Following the correct procedures for booking and collecting resources.
To return resources at the agreed date and time.
Parishes are responsible for returning resources in the original containers and ensuring that the sets are complete and in good condition. If any items are lost or damaged, the Children, Young People and Families Team will contact the relevant parish to arrange replacement and/or repair costs.
A copy of these terms will be available for parishes when they borrow resources.