Leeds Diocese has a link with the Lutheran Evangelical Church in Erfurt, Germany. It was set up before 1990, when Erfurt was still a city in the former East Germany. It differs from other diocesan overseas links because it involves a non-Anglican church in Europe.
Erfurt, nicknamed 'the green heart of Germany', is the capital city of Thuringia. It is near the region where, historically, the British Royal family originated: Saxe-Coburg and Gotha. Since the Protestant Reformation the largest religion in Thuringia has been Lutheranism. Under Communist rule church membership was strongly discouraged and today over half of the population belongs to no religion. The Evangelical Church remains the largest faith in the State. One of the reasons why the link was originally established was to foster peace and reconciliation between former enemies.
The link's main aims today are:
To share and learn from experiences of ministry in increasingly secularised societies
To explore the role of the Church in the future of Europe
To discuss the differing insights,traditions and worship styles in Protestantism
To facilitate exchanges and training visits
To share practice e.g. training leaders, education and community service
To learn lessons from the experience of wartime conflict and a once persecuted Church
Regular exchanges between clergy, women's groups, Lay Readers and others are a feature of this link. There is a special emphasis on two-way youth exchanges and the sponsorship of visits for young people who have never travelled abroad.
Latest News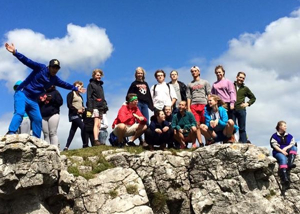 Kirchentag visit to Berlin, Erfurt and Wittenberg - 24 -28 May 2017.
Visit to Erfurt with Bishop Nick Baines - 28 October - 1 November 2016.
Strengthening ties with Erfurt - Visit June 2016 - Read more here.
Ablaze - Hearts on Fire... Summer 2015
Young people from Erfurt, SW Virginia, Cape Town and Yorkshire met at Scargill to explore their Christian faith. Read more here and here.
Latest Prayer Diary Download here.