The land around the church is the public facing space of the church community. Every churchyard is different, ranging from those that can be a haven for biodiversity, to showcase for God's wonderful creation, to intensly used play spaces or urban parks which bless your community by capturing carbon, improving air quaity and reducing flood risk. They can provide a space of welcome for everyone for worship, reflection and restoration.
New Churchyard Toolkit
Launched at the Churchyard Conference 4th October St Stephen's Church Bowling, Bradford, this new toolkit for parishes offers a helping hand to make the most of your churchyard. Whatever the size and context of your churchyard, this God given piece of land, has the potential to be cherished and to serve the church and the wider community.
Packed with ideas and practical advice the toolkit takes you through six steps for a fruitful churchyard, to help you develop an actionable plan for your churhcyard. It offers guidance on things to consider for each type of churchyard use eg when developing a quiet garden, a heritage hub or a energy generation hub.
Download the Churchyard Toolkit here
Download a Template Churchard Parish Plan here
Other resources for churchyard management
Church of England Count on Nature Webinars
During Churches Count on Nature week 2023 the Church of England Environment Programme ran a series webinars to inspire and upskill all who love and care for thier church land. Full details and links to watch the recordings can be found here.
Churches Count on Nature and The Great Yorkshire Creature Count June 2024
Churches Count on Nature 2024 is part of Love Your Burial Ground Week, focusing on the brilliant wildlife to be found in churchyards and chapel yards. It is a is a joint initiative promoted by Caring for God's Acre, the Church of England, the Church in Wales and A Rocha UK.
In the Diocese of Leeds we have teamed up with The Yorkshire Wildlife Trust so that whether you take part in the Churches Count on Nature or join in with the YWT Great Yorkshire Creature Count, all the information from your church "wildlife census" will help to build up a picture of biodiversity across the region. Spot it! Count it! Record it! Just send in or uploading your data onto the iNaturalist database.
This is a great opportunity to get a few members of the congregation, the Sunday School or your green team to have the joy of plant, bug and animal hunting. Or perhaps you would like to invite your local community into your churchyard to record what they see, from dandelions and ladybirds to ancient yews.
What did the 2023 Churches Count on Nature Survey reveal? Read about it here
Find resources and how to take part here
Find a Churches Count on Nature event near you here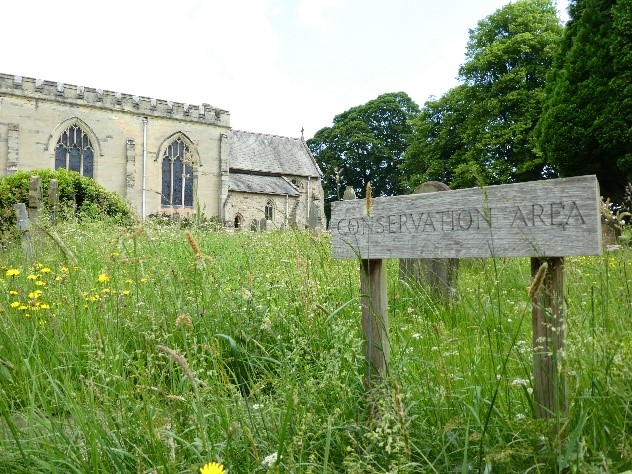 "Churchyards can be incredible sanctuaries for wildlife as old trees, wildflowers and long grass harbour a range of minibeasts, birds and small mammals right in the heart of communities. We're delighted to join the count – the resources and advice from Yorkshire Wildlife Trust will help nature flourish in community green spaces everywhere and provide great opportunities for people to engage together."
Rt Revd Arun Arora, Bishop of Kirkstall