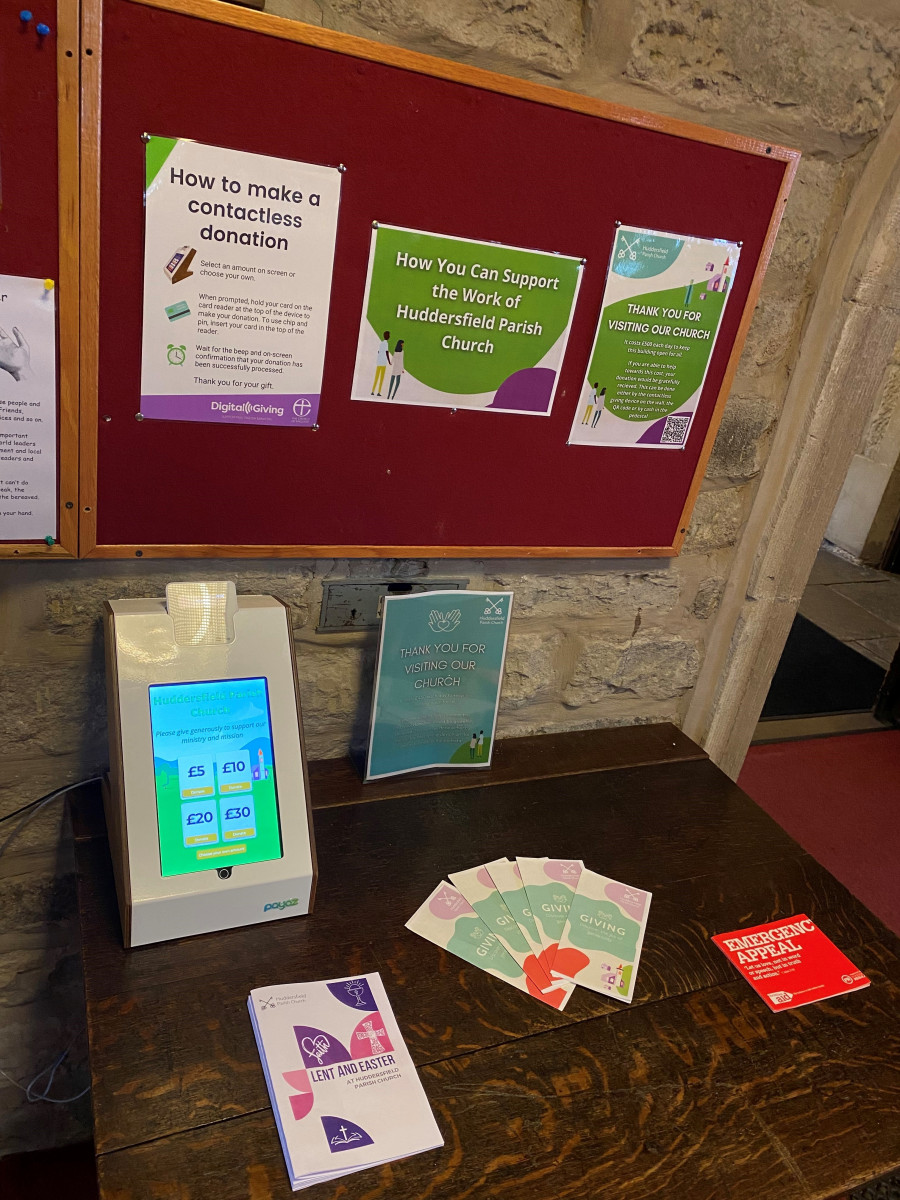 Churches across the diocese have been taking advantage of new ways to raise funds, thanks to the successful rollout of the Digital Giving Project.
The Project brought some 80 contactless giving devices into the diocese, given for free and allocated to churches who went through the application process.
Four different types of contactless giving devices were offered: Payaz Giving station, Collectin More, GWD Midi device and GWD Skinny donation stations.
The devices have allowed churches to develop their thinking around giving and generosity, and embrace digital technology.
St Luke's Holbeck received a device, and had this to say: "Having a Digital Giving device has changed how we think about donations as a church.
"First and foremost, it has increased the number of donations we receive on a regular basis.
"The Digital Giving device is in the Narthex in plain view with a simple to use interface which has been beneficial to helping members of the public and our congregation feel comfortable, and confident, about donating.
"We have also been able to utilise the Digital Giving device to raise money for other causes, such as the Sri Lanka Link, and most recently we helped to raise donations for Wheatfield's Hospice, who were a great help for one of our longest standing congregation members towards the end of her time.
"This is something we would have not thought of when first applying for our Giving Device.
"The ability to easily configure the device is really useful.
"The Digital Giving device we received has been very successful, to the point that our partner church plant, Hunslet Gathering, are looking to apply for a device of their own.
"Thank you again for the opportunity to have one of these fantastic Digital Giving devices."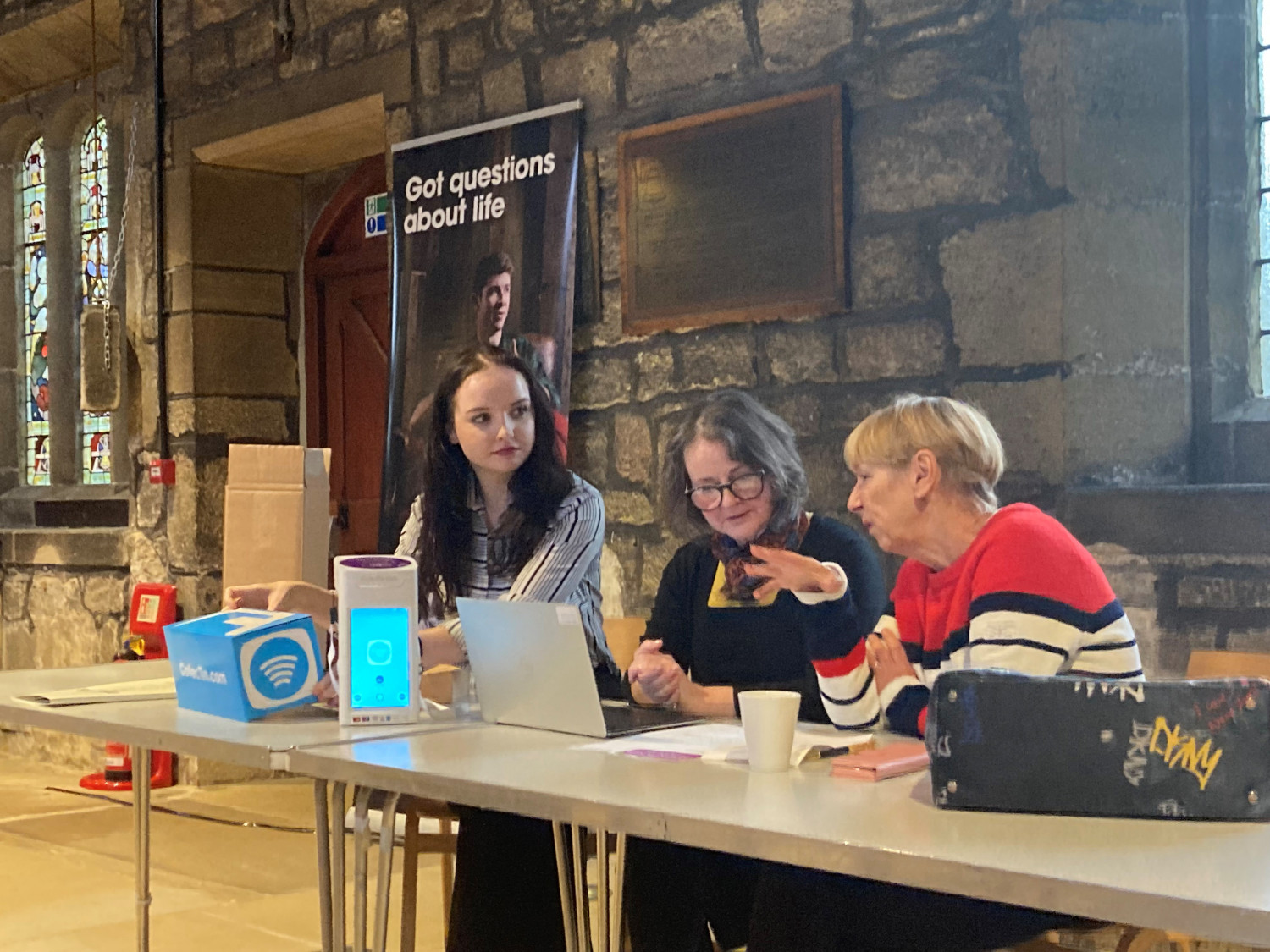 Our diocesan Stewardship and Income Generation Team has offered support to all churches with these new devices.
All churches received one to one training when collecting their device, and ongoing monitoring and help is provided by the Team to help solve any connectivity issues and advise how to get the best out of the contactless device.
The Project has already seen increased returns, with almost £30,000 generously given through the contactless devices and associated online giving since November 2022.
Huddersfield Parish Church are also taking part, and were very pleased to be offered a digital giving device through the project.
They received their Payaz Giving station in December 2022 following training from Diocesan Stewardship Officer Janet Edmond.
The church said: "We have joined the digital world!
"As with all technology, there were teething issues but the unit now works effectively and the number of donations keeps growing.
"The device has enabled us to enter into the digital age and become more accessible to our congregation and visitors.
"The system has only been in place for two months but has already proved to be very successful as a revenue stream for the church (our donations from the device have doubled each month).
"If your church is considering going down this route, we would encourage you to give it a try.
"You might be surprised at the results!"
Janet said: "I'm so encouraged by the enthusiasm that has been shown across the diocese in embracing digital technology.
"As we live in an increasingly cashless society, I recommend all churches to consider investing in a contactless device for their church as well as setting up an online giving page to help with their fundraising.
"If you are worried about handling the technology…don't be!
"There is a lot of good support available to help you get started with digital giving."
Following on from the interest shown in the Digital Giving Project, the Stewardship Team are hosting a series of digital clinics across the diocese over the next few months where those interested can seek advice on purchasing a contactless device for their church, how to set one up or discuss issues they are having with their current device.
The clinics will run on an appointment-only basis allowing all attendees to receive one to one support.
The Stewardship Team will be hosting the next digital clinic on Tuesday, March 21, at the Wakefield Episcopal Area office in Thornes Park, Wakefield, from 10am until 4pm.
To book a slot, email the Stewardship Team at resourcingparishes@leeds.anglican.org, or call 07376 525684.