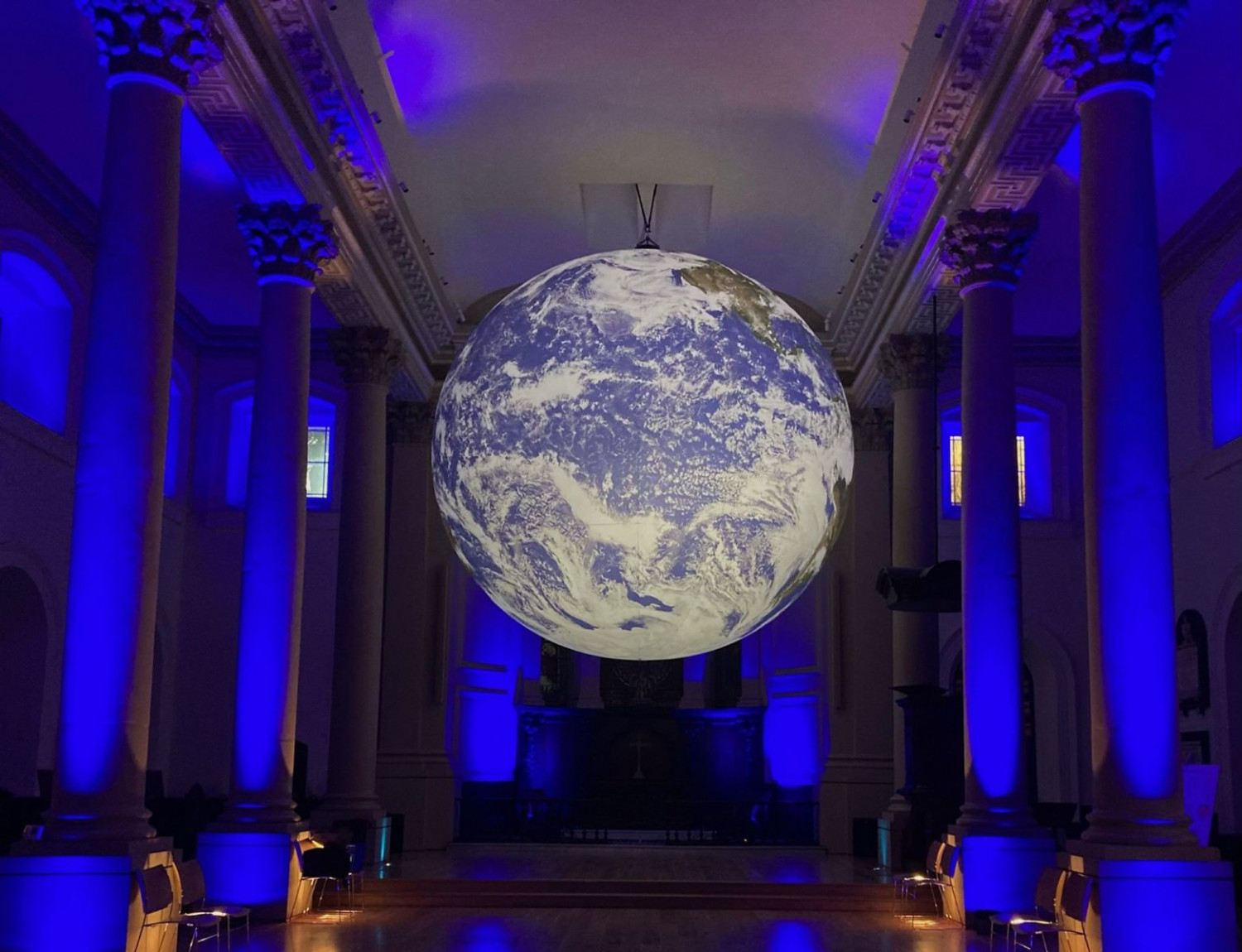 The stunning 'Gaia' earth installation was unveiled at Holy Trinity Boar Lane, Leeds on Monday evening by the Bishop of Kirkstall, the Rt Revd Arun Arora.
'Gaia' is an illuminated, 6 metre in diameter, super-accurate replica of our planet, created by artist Luke Jerram using detailed NASA imaging of the Earth's surface.
It has been displayed all over the world and visited by millions of people.
Gaia is designed to recreate the 'overview effect' experienced by astronauts when they view the Earth from space, and are often struck by a profound awe for the planet, and a renewed sense of responsibility for protecting it.
Gaia is the centrepiece of the 'Our Earth, Our City' event at Holy Trinity Boar Lane from 8th-26th November.
'Our Earth, Our City' aims to provide opportunities for people in Leeds to engage with the beauty and fragility of our planet by visiting this inspirational artwork for free, and through a series of special events including talks, concerts and workshops.
People can take time to chat about their experiences at our pop-up cafe for the event.
Gaia has become a powerful symbol of the need to act urgently on climate change, and as such it was displayed during the COP26 climate talks in Glasgow in 2021.
At the 'Our Earth, Our City' opening event on Monday evening, which coincided with the start of COP27 in Egypt, the Rt Revd Arun Arora reminded attendees of the need to avoid cynicism and for each of us to do our part to act on climate change.
He encouraged attendees that each of us can make a difference, no matter how small it feels.

Prizes were also presented to the short-listed entrants of the 'Our Earth, Our City all age community art competition.
Winning entries from adults, children and young people aged 5 upwards reflected the themes of our city of Leeds and the need for us to work together to protect the planet.
The competition was judged by artist and honorary bishop for Diocese of Leeds, the Rt Revd David Hawkins (pictured alongside Blessing Adewuyi, winner of the 12-16 category).
David encouraged the short-listed artists about the importance of art as a means of acting on climate and environmental issues: "Art does something that nothing else can do.
"Art touches the emotions, and emotion creates motion".
The Revd Dr Che Seabourne (pictured), Project Director of 'Our Earth, Our City' said: "It is an incredible privilege to lead an amazing team of volunteers who have made this exciting project a reality.
"We pray it will be a fantastic opportunity for conversations about faith, science and art.
"I'd like to thank ECLAS (Equipping Christian Leadership in an Age of Science) for their generous funding."