Welcome to the Diocese of Leeds Vocations web pages! Please use the menu to navigate around the Vocations pages - you'll find this on the left on a PC/tablet or above on a mobile.
"Vocation" is a word that is hard to define well, and it often means different things in different contexts. Find out more.
We are all called to use our skills and gifts to work with God in growing his kingdom here on earth. That can mean a variety of things. Find out more.
If you believe that God is calling you to be ordained, then we would like to talk to you. Begin by speaking first to your parish priest/vicar. Find out more.
The Church of England is actively seeking more young people to serve as ministers within the church. The Diocese of Leeds is especially keen to see those under thirty offering for ordination and other ministries. Find out more.
This page is for those who are currently meeting with someone as part of the discernment process. It contains information and resources to help you. Find out more.
Find useful resources, information and more on this page. Find out more.
Every Diocese does things slightly differently! This may be for historic reasons, but often it's simply because of the size and history of the diocese involved. Find out more.
Some of the things that could prevent and that need not prevent you as a candidate going forward for ordination. Find out more.

The Vocations Team: What we do
Most of the Vocations Team's time involves working with those exploring a call to ordained ministry, but we are here to support and encourage everyone to discover God's purpose for our lives, especially in formal roles within their local church. You will find more about lay vocations on the Lay Training pages.
If you want to discuss God's call upon your life, and you are not yet sure if that means ordination, we'd like to talk with you. Please get in touch!
The Vocations Team supports ordination candidates through the whole discernment process, including their formal training, right up to the day of their ordination as deacon. After that, responsibility passes to the Clergy Development Team.

The Church of England's national web page about vocation is run by Ministry Team (formerly known as Ministry Division). Click on their logo above to go to their home page. They also have a page specifically about Calling.
We're also on social media: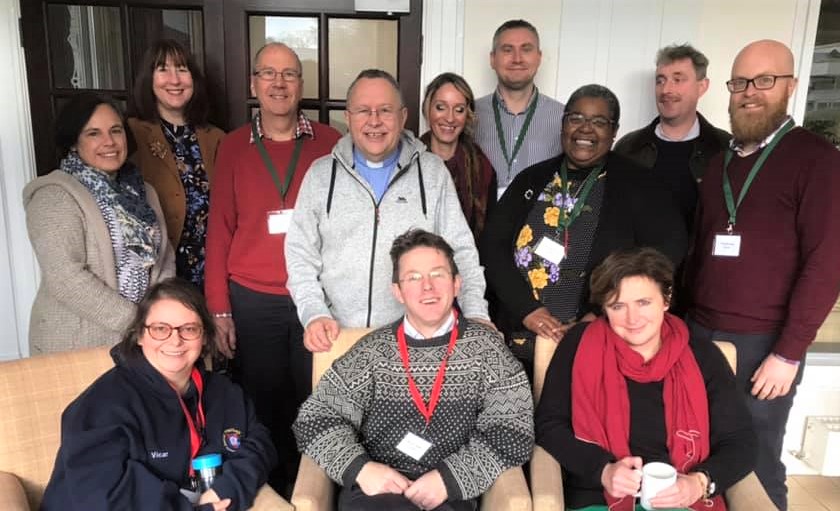 A small network of Assistant DDOs help with the ordained vocations discernment process.
They are all experienced parish priests from across the Diocese, appointed by the Bishop.
(Not all of them are pictured here)