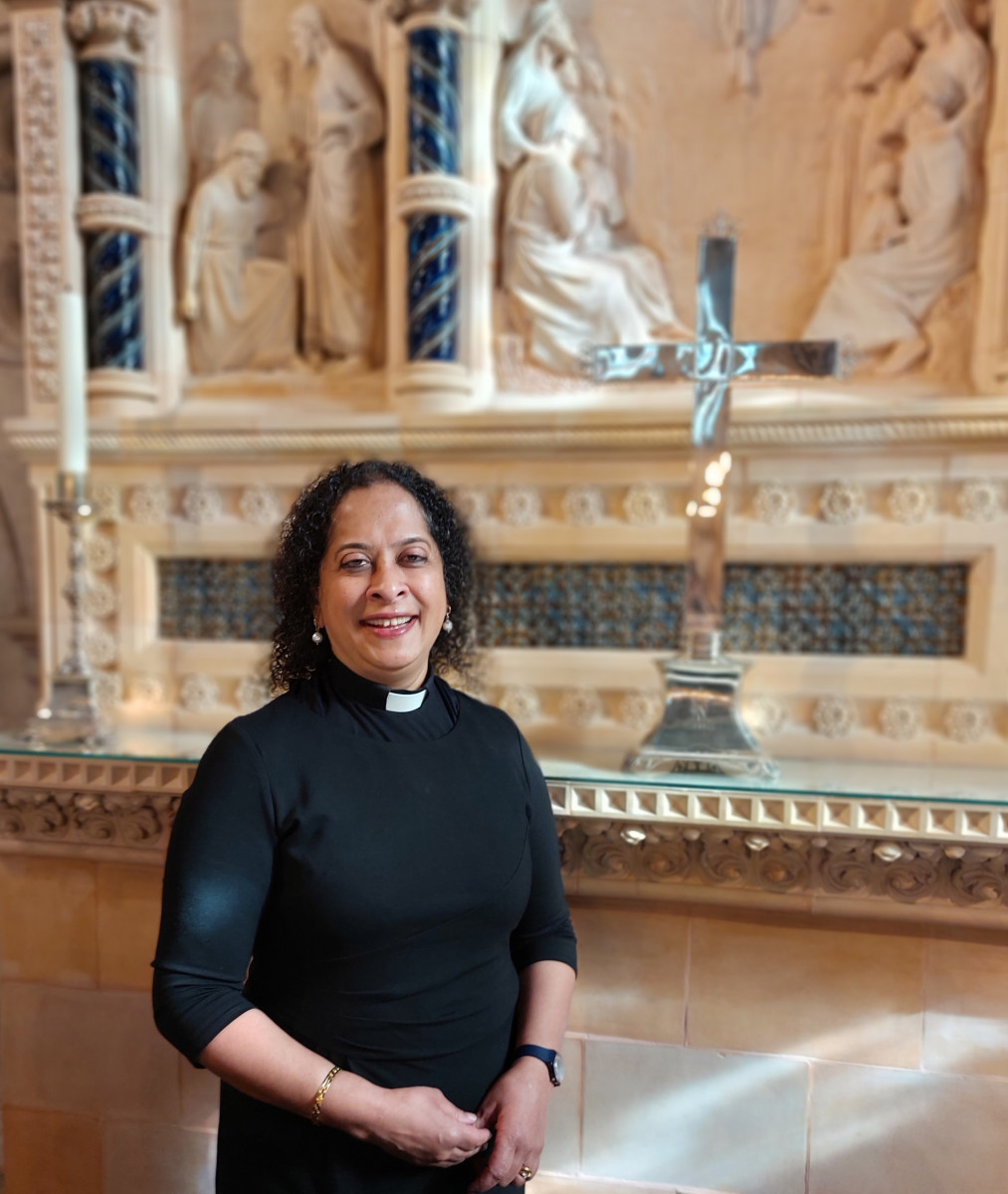 The Revd Canon Smitha Prasadam, currently Chaplain of St Albans, Copenhagen, will take up the role of Bishop of Huddersfield, Downing Street announced this morning.
Her appointment as an Area Bishop in the Anglican Diocese of Leeds marks a return to Yorkshire for Smitha, who once studied English Literature and Linguistics at the College of Ripon and York St John, (University of Leeds).
"I can't wait to start meeting people in God's own country again," said Smitha, who has served the Anglican Church in Denmark since 2018. "This is where I came as a student and began my journey so it holds a special place in my heart. I'm looking forward to working together with parishes, clergy and community throughout Kirklees and Calderdale to encourage people in confident discipleship and relish the thought of embracing cultural, educational, commercial and inter-faith partners so we can support this wonderful place and its people in common cause."
Born into the Church of South India, her family then moved to the Anglican Church in Wales. Both her parents were pioneer mission partners with the Church Missionary Society, and her mother was the first Indian woman ordained in the UK.
Smitha and her family have lived in different places across the UK: "Home is anywhere and everywhere and hospitality both at the Lord's table and the kitchen table makes me happy!" said Smitha.
"My ministry in parish, advocacy and advisory roles over 20 years is joy, justice and dreaming God's dream anew. I hope to be instrumental in connecting people to God, so they can discover a sense of something wondrous, joyous and beautiful, to develop and deepen a relationship with God that is lifegiving and meaningful in today's challenging world."
Welcoming Smitha to her new role, the Rt Revd Nick Baines, Bishop of Leeds said: "This is an excellent appointment for the Huddersfield Episcopal Area in the Diocese of Leeds.
"Smitha has travelled a long way since she was a University of Leeds student and her wealth of experience in ministry at home and abroad will bring great benefits.
"We look forward to working with her and know she will be welcomed by all."
The Most Revd Stephen Cottrell, Archbishop of York said, "It is really good to welcome the announcement of Smitha as the next Bishop of Huddersfield who will be part of a new and exciting leadership team in the Diocese of Leeds.
"She will bring to the role a passion for justice, a desire to see people come to faith in Christ, and for the whole church to reach out in loving service to the communities it serves.
"As someone who lived in Huddersfield for nine years, I feel confident that her ministry will be a blessing to that lovely town, and that part of the Leeds Diocese where, under Bishop Nick's leadership, she will have particular oversight responsibility."
As Bishop's Adviser, Smitha initiated the Racial Justice Working Group in the Diocese of Europe. As a member of the Archbishop's Transformations Steering Group she championed women's vocational pathways for flourishing. Smitha is passionate about liturgy which breathes life into ancient texts so that they can be heard with new meaning and relevance. She is known for mission and partnership with children and young people in schools.
Smitha is currently Chaplain of St Alban's Copenhagen, and serves as Bishop's Racial Justice Adviser, Vocations Adviser and Chair of the House of Clergy in the Diocese in Europe.
She is also a member of the General Synod, the Liturgical Commission, St John's College Council Durham, FGPSC and is Chair of Anglican Minority Ethnic Network (AMEN).