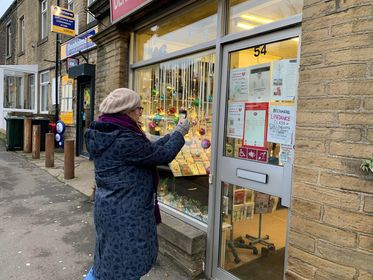 A digital reimagining of the nativity story is sharing the good news of Jesus' birth in a new way to the outer areas of Bradford and Bingley.
Churches found in Harden, Wilsden, Cullingworth and Denholme are inviting their local communities to follow an At the heart of Christmas Nativity Trail, using QR codes and online videos.
The trail begins at Denholme Conservative Club with up to five locations available for people to visit. Once at a designated location, visitors are able to scan a QR code using their phone. This enables them to watch a storytelling video presenting the nativity story with short animations made by the four churches. The trail finishes at Denholme Shared Church with an invitation to find out more about the Christian faith.
The Rev'd Richard Burge, Rector of the benefice, said, "It's been fantastic to be able to offer an interactive way for people to hear the message of Christmas.
"We've enjoyed getting to know many of the local business owners and staff who are acting as locations in the trail."
Helen Miller, Nativity Trail organiser and member of Denholme Shared Church, said, "I wanted to put together a resource that could be used by all four churches that was both creative and accessible to those who might not come into our church buildings.
"People are looking for something to do during the school holidays and we've been able to offer a fun and free activity they can do whenever they like.
"I hope we have been able to begin a conversation with our communities who may now explore faith further."