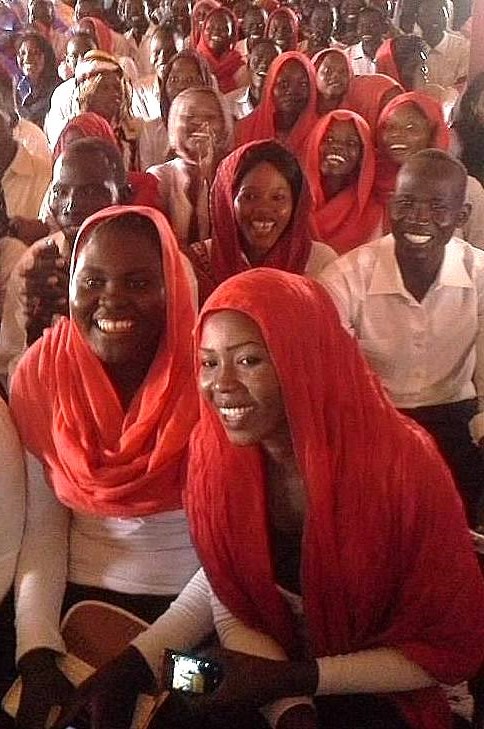 Leeds Diocese is linked with the Episcopal Church in Sudan. Our link opens a window on another part of the world helping to widen our horizons. The spirit of the link is partnership. Together we are members of the Body of Christ, so the link works both ways:
We receive as much as we give

We respect each other
We listen to each other
We pray for each other
We work on shared tasks
We aim to support and encourage our brothers and sisters who feel marginalised and oppressed in their own country, yet maintain their faith in Christ with great courage.
Learning from the lives of others
By staying committed to the Church in Sudan we find we understand more about the church overseas than if we just follow wherever current headlines take us. We allow their lives to challenge us about how we live day to day, and how we can be better followers of Christ. Joining a group visiting Khartoum for two weeks can be a life changing event, experiencing Sudanese life and culture and seeing their church in action.
Read more about how you can be involved by following the links on the left of this page, or email sudanlinkcontact@gmail.com
News items
covid
Ludia Shokai celebrates ordination with her family
Ludia Shokai was part of a cohort of 23 deacons who were ordained at Wakefield Cathedral on Saturday, July 2 2022. They will now go on to serve as curates across the Diocese of Leeds.
She is believed to be the first Sudanese woman to be ordained in the Church of England. Here is a joyous, short video clip, taken straight after the ordination service, showing Ludia celebrating with her family.
Sickness
covid
COVID-19 has arrived in Sudan as everywhere, but there is no depth to the medical services available to cope. There is a widespread shortage of medical supplies. The Christian community mainly live in densely built townships on the edges of the cities, with no medical facilities at all. Apart from health, the coronavirus pandemic is particularly dangerous for Sudan's fragile transition to democracy as the transitional government is crippled by economic challenges. In response we appealed for funding for aid grants and raised £70,000. Read about it here.
Hunger
There are widely experienced food shortages in Sudan at the moment. Inflation has been soaring to over 200% pushing up prices of basic food items. This is an enormous pressure on the Christian community which tends to come from the poorer part of the population, creating an ongoing struggle to survive. You can read about it on page 3 of this report here. It forecasts acute food insecurity deteriorating to cisis level in various areas, and then forecasts severe hunger levels in parts of Sudan.
Oppression
After years of military rule, the people of Sudan rose up in 2019 and overthrow the President. There is now peace in Sudan for the first time for many years, and an attempt to establish a democratic civilian government. The interim ruling Council is slowly reversing harsh laws and supporting civil liberties. There is new religious freedom, but the situation is delicate and there is still a long way to go. You can read about it here, in a two page in depth report written in 2020. Housing projects for hundreds of thousands of people do not include any provision for Christians in the community to have a church centre.
Pray for Sudan
Christians in Sudan continue strong in faith and hope, and are greatly deserving of our companionship. We have a Prayer Diary for Sudan. To receive a monthly copy email sudanlinkcontact@gmail.com
Contact us
Revd Dale Barton
Secretary to the Sudan Link Working Group
Contact Dale to join an email list and receive up to date news of Sudan