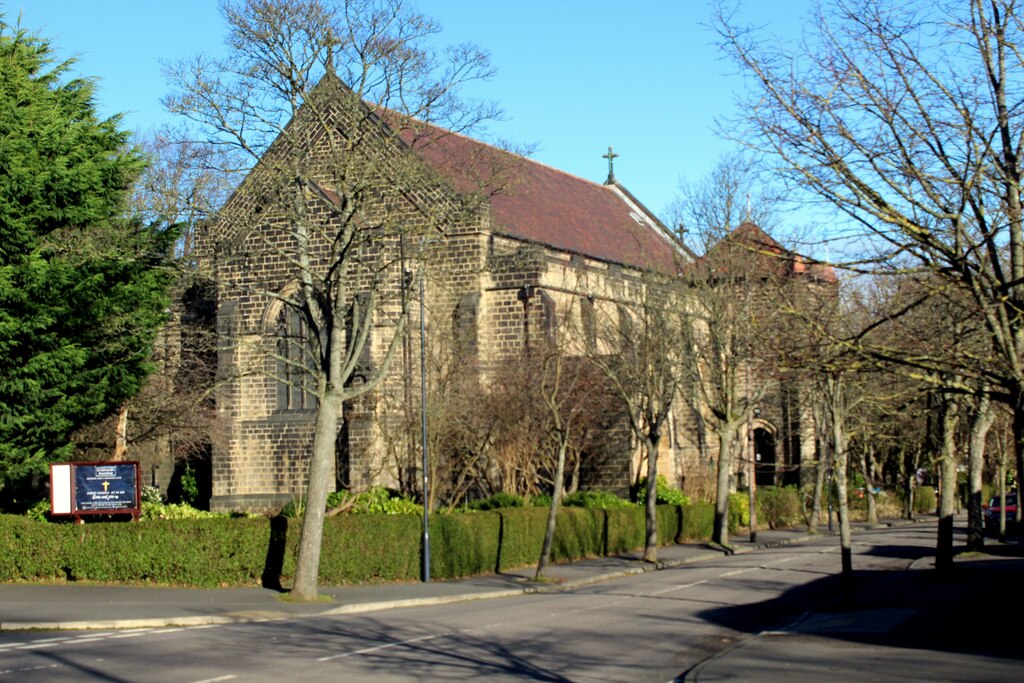 Churches from all across our diocese are throwing their doors open and sharing their history as part of the Heritage Open Days initiative this September.
As part of this many of our churches are also taking part in the Yorkshire Historic Churches Trust's Yorkshire Churches Day, on Saturday, September 10, celebrating the best of our region's beautiful buildings.
It is hoped to be one day a year when all places of worship in the region open up and share all that can be found inside their buildings.
It also provides an opportunity to showcase the many historic religious buildings in Yorkshire as places of worship and important centres for the local areas they serve.
The Rt Revd Nick Baines, Bishop of Leeds, said: "I'm pleased that so many churches in our diocese are taking part in Yorkshire Churches Day this year.

"It's good to open our buildings to share their history and importance to the local community, and to also let people see what we're currently doing, along with our hopes for the future.

"I hope many people will visit and learn a lot – both on the day and through the wider Heritage Open Days programme."
YHCT President, the Most Revd Stephen Cottrell, Archbishop of York, said: "I'm delighted to support the Yorkshire Churches Day, which is a wonderful opportunity to share many of our county's beautiful churches.
"At the heart of many of our communities sits the parish church; there to welcome everyone.
"These are rightly centres of community, places to gather, learn, serve, places where we mourn and where we celebrate and places where week by week the good news of Jesus Christ is shared.
"However you engage with our wonderful churches, remember that they are not merely places of heritage and history, but rather vibrant and living places of worship and community.
"I'm so grateful to the Yorkshire Historic Churches Trust for this initiative and for the many ways in which they support and encourage those who work so hard to care for these buildings, their work, along with the work of so many volunteers will help ensure that the richness of these buildings is preserved and enhanced for generations to come."
A list of churches participating can be found below, and more details can be found here.
For special events, booking may be required.
Please note other churches in the diocese may also have their own arrangements not listed on the website.
Friday, September 9:
All Souls Blackman Lane, Leeds 10:00 - 15:00 (Leeds)
Christ Church, High Harrogate 09:00 - 13:00 (Richmond & Craven)
St Hilda, Cross Green, Leeds 10:00 - 16:00 (Leeds)
St John the Evangelist, Birkby 14:00 - 16:00 (Halifax)
St Peter, Huddersfield 08:00 - 16:00 (Halifax)
St Peter, Warmfield (Kirkthorpe) 12:00 - 16:00 (Pontefract)
Saturday, September 10 (YORKSHIRE CHURCHES DAY):
All Hallows, Almondbury 10:00 - 16:30 (Halifax)
All Saints, Elland 11:00 - 16:00 (Halifax)
All Saints, Ilkley 10:30 - 15:00 (Bradford)
All Saints, Otley 10:00 - 16:30 (Guided tours 11:00 / 14:00) (Leeds)
All Saints, Weston 11:00 - 17:00 (Richmond & Craven)
All Souls Blackman Lane, Leeds - 10:00 - 15:00 (Leeds)
Chapel of St Mary Magdalen, Ripon 10:00 - 16:00 (Richmond & Craven)
Church of the Epiphany, Gipton 11:00 - 13:00 (Leeds)
Christ Church, Sowerby Bridge 10:00 - 15:00 (Halifax)
Holy Trinity, Rothwell 10:00 - 16:00 (Leeds)
St Andrew, Blubberhouses (hrs not stated) (Richmond & Craven)
St Anne-in-the-Grove, Southowram 10:30 - 16:00 (Halifax)
St Bartholomew, Armley 10:00 - 16:00 (Leeds)
St Botolph's Church, Knottingley 10:00 - 14:00 (Pontefract)
St Chad, Far Headingley 14:00 - 16:00 (Leeds)
St Cuthbert, Ackworth 10:00 - 16:00 (Pontefract)
St Edmund's Roundhay, Leeds 10:00 - 14:00 (Leeds)
St Giles, Pontefract 10:00 -12:00 (ringing chamber only) (Pontefract)
St Helen, Denton 11:00 - 17:00 (Richmond & Craven)
St Hilda, Cross Green, Leeds 10:00 - 16:00 (Leeds)
St John in the Wilderness, Cragg Vale (Hebden Bridge) 10:00 - 17:00 (Halifax)
St John the Baptist, Adel 12:00 - 16:00 (Leeds)
St John the Evangelist, Birkby 10:00 - 14:00 (Halifax)
St John the Evangelist, Brierley 10:00 - 13:00 (Bradford)
St John, Golcar 10:30 - 15:30 (Halifax)
St John, Wortley 10:00 - 16:00 (Leeds)
St Mary the Virgin, Elland 11:00 - 14:00 (Halifax)
St Mary, Oxenhope 10:00 - 14:00 (Bradford)
St Mary, Whitkirk 10:00 - 16:00 (Leeds)
St Mary, Wyke 10:00 - 16:00 (Bradford)
St Michael & All Angels, Headingley 10:00 - 14:00 (Leeds)
St Michael & St Lawrence, Fewston (hrs not stated) (Richmond & Craven)
St Michael, Mytholmroyd 10:00 - 18:00 (Halifax)
St Oswald, Methley 10:00 - 17:00 (guided tours at 12:00 / 14:00 / 16:00) (Leeds)
St Paul, King Cross 10:30 - 16:00 (Halifax)
St Peter, Huddersfield 10:00 - 12:00 (Halifax)
St Peter, Sowerby Bridge 11:00 - 15:00 (Halifax)
St Peter, Warmfield (Kirkthorpe) 12:00 - 16:00 (Pontefract)
St Stephen, Lindley 10:00 -15:00. Tours 11:00 / 13:30 (Halifax)
St Thomas, Killinghall 10:00 - 16:00 (Richmond & Craven)
St Thomas, Stanningley 10:00 - 16:00 (Leeds)
Sunday, September 11:
All Hallows, Almondbury 14:00 - 16:30 (Halifax)
All Saints, Pontefract 13:00 - 16:00 (Pontefract)
All Souls Blackman Lane, Leeds 12:00 - 15:00 (Leeds)
Church of the Epiphany, Gipton 11:00 - 13:00 (Leeds)
St Andrew, Blubberhouses (hrs not stated) (Richmond & Craven)
St Bartholomew, Armley 09:30 - 13:00 (Leeds)
St Chad, Far Headingley 14:00 - 16:00 (Leeds)
St Hilda, Cross Green, Leeds 12:00 - 16:00 (Leeds)
St John, Wortley 12:00 - 14:00 (Leeds)
St Mary, Whitkirk 14:00 - 16:00 (Leeds)
St Michael & St Lawrence, Fewston (hrs not stated) (Richmond & Craven)
St Oswald, Methley 12:30 - 17:00 (Leeds)
St Peter, Sowerby Bridge 11:00 - 15:00 (Halifax)
St Peter, Warmfield (Kirkthorpe) 12:00 - 16:00 (Pontefract)
St Wilfrid, Calverley (organ recital and talk) 15.30 talk; 16.30 refreshments; 18.00 recital (booking essential) (Leeds)
Monday, September 12:
Christ Church, High Harrogate 09:00 - 13:00 (Richmond & Craven)
St Peter, Huddersfield 08:00 - 16:00 (Halifax)
Tuesday, September 13:
St Peter, Huddersfield 08:00 - 16:00 (Halifax)
Wednesday, September 14:
Christ Church, High Harrogate 12:00 -14:00 (organ recital) (Richmond & Craven)
St Hilda, Cross Green, Leeds 10:00 - 16:00 (Leeds)
St Oswald, Methley 14:00 - 16:00 (Leeds)
St Peter, Huddersfield 08:00 - 16:00 (Halifax)
Thursday, September: 15
St Mark, Harrogate 09:30 - Close not known. (inc tour) (Richmond & Craven)
St Mary the Virgin, Barnsley 10:00 - 15:00 (Barnsley)
St Mary Hawksworth Wood 09.00 - 15.00 (Leeds)
St Peter, Huddersfield 08:00 - 16:00 (Halifax)
St Stephen, Kirkstall 10:00 - 15:00 (Leeds)
Friday, September 16:
Christ Church, High Harrogate 09:00 - 13:00 (Richmond & Craven)
St Aidan's, Harehills, Leeds 10:00 - 16:00 (Leeds)
St Hilda, Cross Green, Leeds 10:00 - 16:00 (Leeds)
St John the Evangelist, Birkby 14:00 - 16:00 (Halifax)
St Peter, Huddersfield 08:00 - 16:00 (Halifax)
Saturday, September 17:
All Hallows, Kirkburton 10:00 - 16:00 (Halifax)
All Saints, Spofforth 12:00 - 16:00
Christ Church, Sowerby Bridge 10:00 - 15:00 (Halifax)
St Aidan's, Harehills, Leeds 10:00 - 16:00 (Leeds)
St Bartholomew, Armley - 10:00 - 16:00 (Leeds)
St Giles, Pontefract 10:00 -14:30 (Pontefract)
St Hilda, Cross Green, Leeds 10:00 - 16:00 (Leeds)
St James, Slaithwaite 10:00 - 15:00 (Halifax)
St John the Evangelist, Birkby 10:00 - 14:00 (Halifax)
St John the Evangelist, Brierley 10:00 - 12:30 (Bradford)
St Mark, Longwood 10:00 - 16:00 (Halifax)
St Michael, Carleton 10:00 - 12:00 (Pontefract)
St Oswald, Methley 10:00 - 17:00 (guided tours at 12:00 / 14:00 / 16:00) (Leeds)
St Peter, Huddersfield 10:00 - 12:00 (Halifax)
St Wilfrid, Halton 10:00 - 16:00 (Leeds)
St Wilfrid, Harrogate 10:00 - 15:00 (Richmond & Craven)
Sunday, September 18:
All Saints, Pontefract 13:00 - 16:00 (Pontefract)
All Saints, South Kirkby 12:00 - 14:00 (Pontefract)
Bramhope Puritan Chapel 13:30 - 16:30 (Leeds)
St Giles, Bramhope 13:30 - 16:30 (Leeds)
St Aidan's, Harehills, Leeds 11:30 - 13:00 (Leeds)
St Bartholomew, Armley - 09:30 - 13:00 (Leeds)
St Hilda, Cross Green, Leeds 12:00 - 16:00 (Leeds)
St John the Evangelist, Birkby 10:00 - 14:00 (Halifax)
St John, Sharow 14:00 - 16:00 (Richmond & Craven)
St Oswald, Methley 12:30 - 17:00 (guided tours at 14:00 / 16:00) (Leeds)
St Wilfrid, Halton 11:30 - 15:30 (Leeds)
St Wilfrid, Calverley 14:30 - 18:00 (Leeds)
St Michael the Archangel, Kirkby Malham 14:00 - 16:00 (Richmond and Craven)